Do You Need A Water Heater Replacement San Diego Based Plumber? We are here to help.
Why We Are Your Top Choice for Water Heater Replacement in San Diego
Are you having issues with your water heater? Hot water is one of those necessities that no household can do without — just imagine having to take a cold shower or washing the dishes in icy water! In order to avoid such situations, you need to have a reliable water heater replacement San Diego-based service at your disposal. You need a team that will respond quickly and deliver the quality results you deserve at an affordable price. This is where we come in!
VLN Water Heaters is an experienced plumbing company that specializes in water heater replacement, repair, and maintenance services. Our expertise spans across both simple and complex plumbing issues. We are known around the San Diego area for our professionalism, reliability, and dedication to customer satisfaction. Let's not forget our affordable pricing as well!
Do You Need a Water Heater Replacement San Diego-Based Service You Can Trust?
Water heaters generally last for a long time, but no appliance is safe from wear and tear. Sooner or later, your unit will start malfunctioning and causing you problems.
Are you experiencing one or more of these issues?
Your

unit is 10 or more years old




You

are not getting enough hot water




Weird

noises are coming from your water heater




Your

water heater is leaking

Your hot water has a rusty color or a strange odor
If your answer is yes to any of these, then you need to give us a call or request a call back. The team at VLN Water Heaters has vast experience with both tankless and tank water heaters. That is why we will be able to replace your old unit quickly and reliably.
Water Heater Replacement vs. Repair
Whenever an issue with a water heater arises, homeowners start wondering if they should just attempt to repair it or replace it outright. While repair might seem like the cheaper and more logical option, it is rarely the case. Let's take a look at how you can determine whether you should go for the repairs, or give a call to a water heater replacement San Diego company.
The 50% Rule
A wise rule of thumb is the so-called 50% rule. It says that if the needed water heater repair costs 50% of what it would cost to replace it outright, you should definitely go with the replacement. However, even if the price of the repair does not reach that level, you should consider the frequency of repairs.
The Standard Lifespan
Standard water heaters generally have a lifespan of around 10 years, while tankless water heaters last around 20. Those numbers are valid if the units are properly maintained and taken care of, of course. If your unit is towards the end of its projected lifespan, the safest way to go is to replace it with a brand new one. Old water heaters will break down more and more, causing you to spend a lot in the long run.
If your water heater has had issues over the past few years, do not waste time and money with repairs. Contact us, and we will replace it at the most affordable price!
Why Choose Us As Your Water Heater Replacement San Diego Company?
We take great pride in our integrity. Our plumbers do not waste time. From the moment we arrive, we will spare no effort to get the job done in the fastest and most efficient manner. Our team is also very flexible — you can give us a call on short notice, and we will be there on time. Even if your need arises during busy hours, we guarantee that you will be impressed with our speed!
VLN Water Heaters is a company that is built upon customer satisfaction, repeat business, and recommendations. You can rest assured that we will go the extra mile to ensure you are completely satisfied with the water heater replacement San Diego-based service we provide. In addition, our highly competitive pricing will ensure that you will not spend more than you absolutely have to for a quality plumbing service.
Our team is composed of experienced professionals with many years of experience in the field of plumbing. Apart from water heater replacement in San Diego, we also specialize in drain and sewer cleaning, tub and shower installation, whole-house repiping, and much more. By choosing VLN Water Heaters, you are choosing a full-service company that will take care of all your plumbing needs.
Give Us a Call & Let Us Help You Today!
Interested in our exceptional water heater replacement services? Give us a call today, and we will provide you with a free quote. Our team will inspect your water heater and quickly compile a report on its current state and recommended actions. After we determine a course of action, we will make sure you get the fast and quality service you deserve.
VLN Water Heaters is the premier plumbing company for the San Diego area. The testimonials of our satisfied customers can attest to that fact. We like to explain everything in simple terms, provide adequate course of action, and offer the most competitive pricing in town. Our dedication to quality of work has resulted in many happy customers. Consequently, we get hundreds of plumbing jobs annually, with many returning customers and referrals.
If you are looking for a water heater replacement San Diego service, look no further than VLN Water Heaters. We guarantee the great results of our work and your satisfaction! Give us a call today.
Here's What Our Clients Have to Say About The Water Heating Replacement Service
Wow, very impressed and lived up to their name!
Called looking for a quote for some AC duct work and replacing a 20 yr old AC unit, super polite and responsive over the phone. AC Technician was at my home a couple hours later, extremely knowledgeable, and professional, didn't try to sell me, was great about telling me what my options were and didn't quote anything unnecessary. Ended up getting a new system and paid exactly what was quoted.
Seriously top of the line service! Thanks Same Day! Ken C.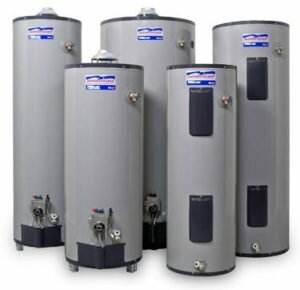 I had a hot water heater that was installed incorrectly by the previous installer. After several months, our tenant noticed water leaking and notified me. After seeing recommendations for Vlad/VLN on Nextdoor, I checked him out on yelp and saw the great reviews. I called/spoke to Vlad right after getting the news from our tenants at ~ 6:45 PM, and Vlad came out and fixed the shoddy workmanship of the prior installer the next morning. Everything was properly replaced/fixed and the workmanship was fantastic. Vlad was very responsive and very reasonably priced…and a nice person. Thank you Vlad! Christian W.
The team is flexible. You can call us with short notice and we'll still arrive on time. Timing can be an issue in busy times, but we still manage to get the 5 stars for speed.
We often call clients friends and this is not just a word. Check our testimonials page to get a better impression on the kind of relationships we've built with them.