Do You Have A Plumbing Project We Can Help With?
Find Plumbing Services in San Diego & San Diego County
Maybe you aren't completely sure if you need a repair or a replacement? It's tough to make a decision without our free estimate service.
There's no sense spending extra money for an upgrade and still there are occasions when your wisest decision would be to invest in a new water heater.
Based on our experience we know there are a few factors to analyse that may help you make an easier decision :
Water heaters last 10 years on average while tankless water heaters' retirement age is 20-25 years.
Have you noticed paying more for hot water recently? Water heaters make up to 15% of the total energy bill. Older devices might need more time to heat the water. Therefore it will make sense making an investment in a newer equipment that saves more energy.
How much is it to repair your water heater? If it costs half of what what it would cost to replace, then you should definitely think of replacement, instead of repairing it.
Analyze all these 3 variables and you'll end up with an easy decision. Once again, you can count on our free estimate service to help you determine the costs.
Water heater repair and replacement in San Diego county isn't the only thing we are good at.
Below you'll find other types of services we are also good at.
Common Plumbing Service Requests in San Diego Area We Get
Water Heaters – we specialize in service, repair and installation on both tankless and  tank water heaters in San Diego County.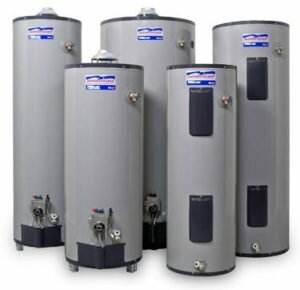 Drain Cleaning
Drain Repair
Faucet Repair & Installation
Hot Water Dispenser
Water Filter Installation
Water Pressure Regulators
Toilet Repair & Installation
Garbage Disposal Repair & Installation
Sink Repair & Installation
Tub & Shower Repair
Sewer Cleaning
Sewer Repair
Whole house re-pipe

Gas line pipes and repairs

General installation and repairs

Pumps – replacement/installation